Green Ship Recycling Services | life cycle ship
GSR Services GmbHResponsibility. For the next generation.
Climate protection. One of the crucial issues of our time. For each and everyone of us. The focus: responsibility – personally and professionally. Because it's about more. It's about people and the environment. It's about resources and the next generation. We assume responsibility in the maritime industry. On land, at sea, in every port and for every ship we look after.
Global trade routes are more. More than liner services and container freight. Acting globally means taking responsibility – for seafarers, residents, coasts, beaches and the seas. We call it maritime environmental protection. With important goals, with clear rules and measurable success. We are ready. At the side of shipyards, shipowners and operators, suppliers and recyclers.

Climate protection is not enough. Network thinking is required. Together with partners and looking beyond the horizon. With technical possibilities for digitally networked solutions. For transparency and traceability, for completeness in real time. With automation we reduce the effort. And offer climate protection with efficiency.
Green Ship Recycling ServicesWe bear responsibility
We look forward to supporting you too.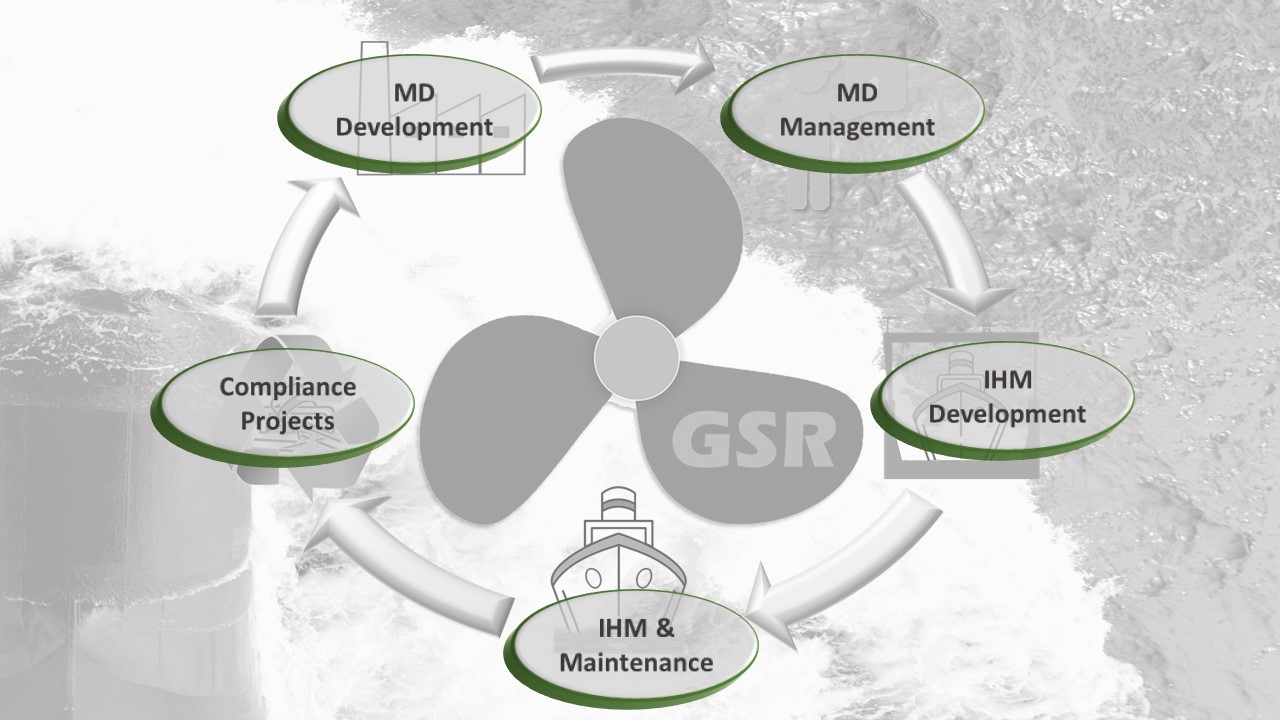 This is what our customers think of us...
Birger Tietgen

HMS Hanseatic Marine Services GmbH & Co. KG

A new topic for all of us, which primarily means administrative effort. Having a competent partner who takes care of the procurement and documentation from start to finish is a real relief for the actual day-to-day business. It is reassuring knowing to be in line with legal requirements.

Michael Suhr

Regional Director North Europe of Korean Register

GSR Services and staff are recognized by Korean Register (KR) as "Approved IHM Experts". Between 2019 and today, GSR Services has prepared many "Inventory of Hazardous Materials" for our customers, enabling KR IHM certification. Henning Gramann is a highly experienced and internationally recognized Ship Recycling Expert with a very deep knowledge on the entire Ship Recycling life cycle. Korean Register, as the South Korean IACS classification society, is also committed to making merchant shipping greener, cleaner and safer, which is why KR and GSR Services are a great fit!

Denise Bartz

TGE Marine Gas Engineering GmbH

Professional handling in a friendly atmosphere! We have been working closely with GSR Services for a few months. The communication with each other is very friendly and the employees are always available for questions. Whether by phone or email, you always get a quick and efficient response. The handling of the projects is very transparent, uncomplicated and is always completed on time. Our suppliers also appreciate the professional handling and the support with questions or when filling out the MD+ SDoCs. We often have short-term projects to complete and we always look for a solution in our favour. With GSR Services we have a partner at our side who supports us with his knowledge and expertise on the subject of IHM. You can say "Light into the Dark" on the subject of IHM - thanks to the support of GSR Services.

Inga Lauts

A&R Services

GSR supports us with the IHM development regarding the new buildings at A&R. The cooperation is exceptionally solution-oriented, very efficient and smooth. The flow of information is seamless, guiding and available at any time. Special wishes or requirements are integrated and questions are answered on short notice. Many thanks for the good cooperation!

Wouter Hagens

NautilusLog

The cooperation with our German partner GSR is very pleasant and professional.
The knowledge they offer in the areas of IHM, IHM maintenance and ship recycling we can immediately convert into understandable language to improve our current and future software tools.
We are looking forward to a long-term cooperation and relationship in order to keep our ships compliant with the help of digital tools.


Peter Lee

OldendorffCarriers

GSR takes care of our IHM maintenance right from the beginning. They are solution-oriented, fast, exceptionally cooperative and customer focused. Their expertise ensures IHM compliance for us at all levels.
We are looking forward to a long-term cooperation and relationship in order to keep our ships compliant with the help of digital tools.


Sarah Ferguson Brown,

Norwegian Cruise Line Holdings

GSR has been supporting us with the development of IHMs for a number of our fleet and is now taking care of our IHM maintenance. The cooperation is very friendly, efficient and with an expertise we feel we can rely on to be compliant with respective regulations in all IHM matters.


Lars Liebner

Shipping company Lehmann

Working together is a lot of fun and quite honestly, absolutely NOBODY can hold a candle to GSR in the area of IHM, I am still glad that Lehmann and GSR came together.